STA Enterprises Sd​n Bhd
199501008​700 (337898–T)

BACKGROUND
STA Enterprises Sdn Bhd (STAE) is the property holding company of STA incorporated on 30 March 1995 to undertake the construction and subsequently manage Wisma STA, a 12-storey commercial/office building. STAE is managed by its Board of Directors.
WISMA STA
Wisma STA is a 12-storey commercial / office building with multi-storey carpark with the following facilities (including Function Facilities for Meetings and Events):
Twenty four (24) hours security
Tinted double glazed curtain glass wall
Centralised controlled air-conditioning design which allows for two (2) zones control in the demised premises which is beneficial for after office usage
Drive-up carpark providing up to 199 covered parking bays
A Main Function Hall which caters up to 200 persons and a Pre-function Room which sits up to 50 persons for tenants' events (and other venues ie. Multi-purpose Hall, Board Room and Glass House)
MATV systems which supports FM Radio, all terrestrial TV channels and satellite (ASTRO) transmission
Comprehensive under floor concealed power, telephone and data trunkings using Category 5 wiring. Unifi cabling is also available at Telekom riser. Every other power point in the demised premises is supported by the building's generator equipment to ensure continued electricity supply in the event of power disruption. Start–up time of the building's generator equipment is six (6) seconds from cut-off of electricity supply
Closed-circuit television monitoring system comprising 38 nos. digital cameras monitoring critical areas of the building
Comprehensive firefighting system including smoke and heat detectors, fire extinguishers and sprinklers. For safety purpose, fire drill exercise shall be conducted for the building and tenants in the event of fire and/or emergency evacuation
Air-conditioned Musollah (Surau) rooms and facilities for Muslim men and women
Reasonable insurance policies for fire, public liability and plate glasses
LOCATION/MAP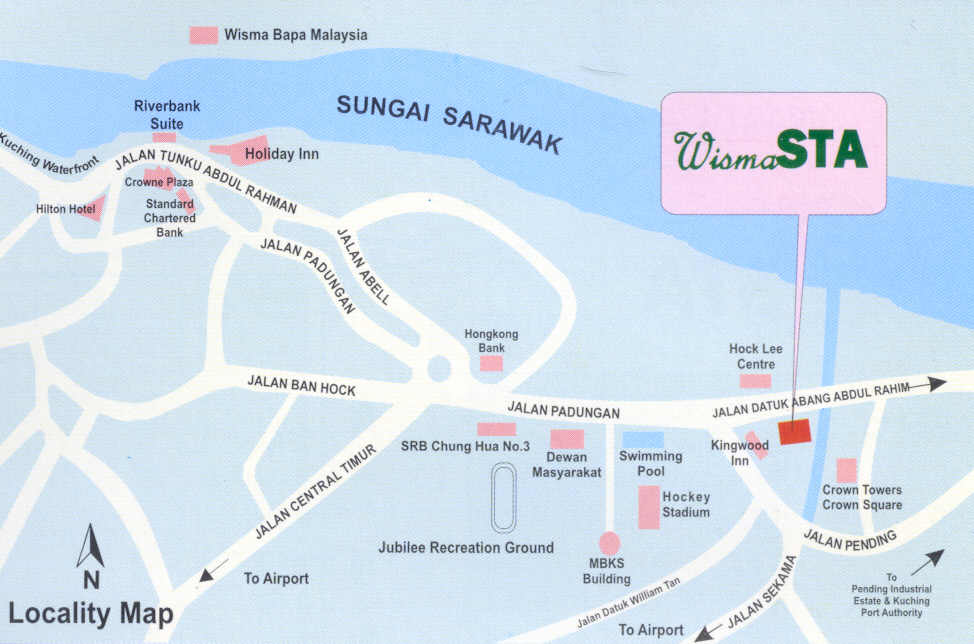 Surroundings / Nearby Amenities:
Hock Lee Centre has a 4-storey shopping podium and 20-storey hotel.
Crown Square has a 4-storey shopping centre.
Public Bank Berhad, Industrial and Commercial Bank of China (Malaysia) Berhad and Bank Simpanan Nasional are located adjacent to Kingwood Inn and Hong Leong Bank Berhad is also within walking distance.
tenants listing
The tenants of Wisma STA as at 30 September 2021 are listed as follows:
| No. | Level | Name of Tenants |
| --- | --- | --- |
| 1. | 1 (North) | CGS-CIMB Securities Sdn. Bhd. |
| 2. | 1 (West) | VACANT |
| 3. | 2 (North & South) | Royal Malaysian Customs Department – Customs Division |
| 4. | 3 (North) | Royal Malaysian Customs Department – Technical Services Division |
| 5. | 2 (West) & 3 (West) | PricewaterhouseCoopers Associates Sdn. Bhd. |
| 6. | 3 (South) | VACANT |
| 7. | 3 (South) | STA Training Sdn. Bhd. |
| 8. | 4 (North) | Sarawak Timber Association (Exhibition Centre) |
| 9. | 4 (South) | Sarawak Timber Association (Meeting Room) |
| 10. | 4 (South) | SMEC (Malaysia) Sdn. Bhd. |
| 11. | 5 (North) | Zitron Enterprise (M) Sdn. Bhd. |
| 12. | 5 (South) | Federation of Malaysian Manufacturers |
| 13. | 5 (South) | VACANT |
| 14. | 6 (North) | CIMB Bank Berhad - Corporate Banking |
| 15. | 6 (South) | CIMB Investment Bank Berhad - Private Banking |
| 16. | 6 (South) | Principal Asset Management Berhad |
| 17. | 7, 8 & 9 | Department of Environment Sarawak |
| 18. | 10 (South) & 11 | Sarawak Timber Association & its subsidiary companies |
OFFICE SPACE FOR RENT
The following office spaces are currently available for rent by interested parties:
| | | |
| --- | --- | --- |
| 1. | 1 (West) | 163.1 sm or 1,755.5 sf |
| 2. | 3 (South) | 168.0 sm or 1,808.3 sf |
| 3. | 5 (South) | 191.5 sm or 2,061.2 sf |
For more information, please contact:
Ms Emily Chua
HP: + 6 019-827 0878
Tel: +(60 82) 337898
Fax: +(60 82) 335698
Email: This email address is being protected from spambots. You need JavaScript enabled to view it.